Wellsystem Wave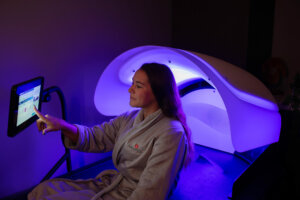 This dry, hydro-jet massage system does more than just relax your muscles. It also includes invigorating chroma, aroma, sound therapy and soothing meditation routines to guide you in your wellness journey.
The Wellsystem combines heat and pressurized water for a relaxing full or partial body massage. The airless system creates a quiet and consistent environment for warm water jets to massage the body from head to toe.  This massage experience treats the individual by kneading, rubbing and pressing muscles to relieve tension.
The Wellsystem Wave can be individually adjusted to body size, shoulder width, massage pattern and pressure, to ensure each program offers a customized experience for the guest. 
Enjoy this new experience with an overnight stay or as a day guest, add the Wellsystem Wave to complement your existing spa services. 
Request a spa reservation by calling 888.735.8181
Required attire: Comfortable fitting clothing or dry robe is required. Wet swim suits or sharp objects including jewelry cannot be on during a Wellsystem Wave session.